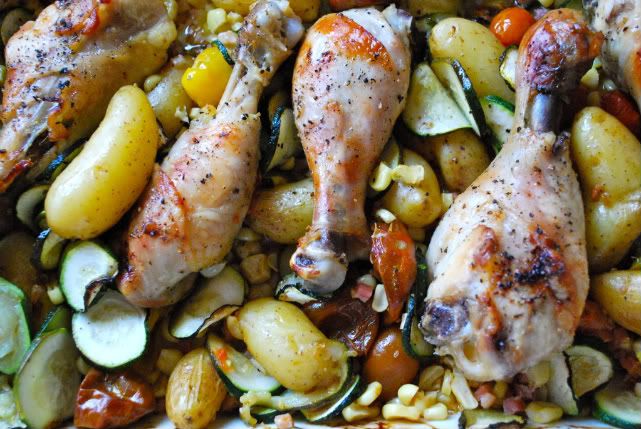 I have not posted an original recipe in a while. Mostly because it has been so dark at 5pm and my photos never turn out (since I am morally against using a flash). So with the sun going down later here is one of my favs.
I have been addicted to the organic drumsticks at Trader Joe's. They are so inexpensive, organic and great for a bunch of meals. This particular meal has been a favorite around our house because there is very little prep work and it is really yummy. This recipe is for a family of 4 and maybe a couple lunches.
2 packages of Organic chicken at Traders (I think there are 5 drumsticks in a package so that would be 10 pieces of chicken)
1 package of pancetta at Traders (this is the secret ingredient, it is with the cream cheese at TJ's already chopped and ready to go)
2 corn on the cobs with corn cut off (does that make sense)
1 bag of fingerling potatoes (also from Traders about 15 potatoes)
15 (or so) organic cherry tomatoes (when I made this Trader Joe's had an heirloom variety that was funky colors and so good)
3 zucchinis (sliced, I use the #3 setting on my
mandoline
... if you don't have one put it on the top of your list. I use mine everyday in the kitchen, especially with warmer weather around the corner it makes salads so yummy)
3 tbs olive oil
salt & pepper
set oven for 375
Put olive oil in a 9"x12" rectangular baker. Add all of the ingredients (except the zucchini) and toss around in the olive oil so everything has a coat. Then arrange the ingredients so that everything has it's spot. Generously salt and pepper (especially the chicken). Cook for 20 minutes. Take out of oven and flip chicken + add the zucchini (this is a little tricky because you want the zucchini to be coated in all the oils. Just tuck them snugly in and around chicken (if they are sitting on top they will dry out too quickly). Salt and pepper flipped chicken. Cook for another 20 minutes. Serve with short grain brown rice. easy & yum.