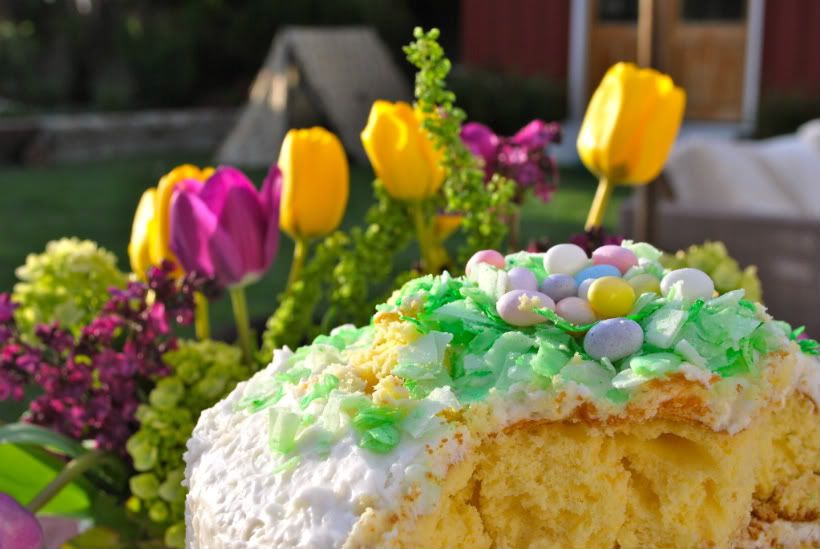 Okay so here is my confession. I used a box cake BUT I doctored it up with the most fabulous frosting ever. I thought I must share. This is a recipe from the fabulous Diane Phillips in her cookbook
Perfect Party Food
. I have made/had a dozen dishes from this book and all of them are AMAZING.
So here it is 'Nancy Kelly's Two-Day Memphis Coconut Cake':
Ingredients:
Two 9-inch yellow cake layers, homemade or store bought
3 cups heavy cream
Three 7-ounce packages Baker's Angel Flake coconut
2 cups sour cream
2 cups sugar
4 cups sliced fruit (berries, pineapple, kiwis, and bananas) for garnish
1. Split each cake layer in half horizontally with a serrated knife. Place strips of waxed or parchment paper around the edge of a serving plate, and center a cake layer on the plate.
2. With an electric mixer, beat the cream in a large bowl until stiff peaks form.
3. In another large bowl, combine 2 cups of the coconut, the sour cream, sugar, and whipped cream. Spread some of the filling and frosting mixer over the cake and repeat the layers, ending with the cake.
4. Garnish with the remaining coconut and fruit before serving.