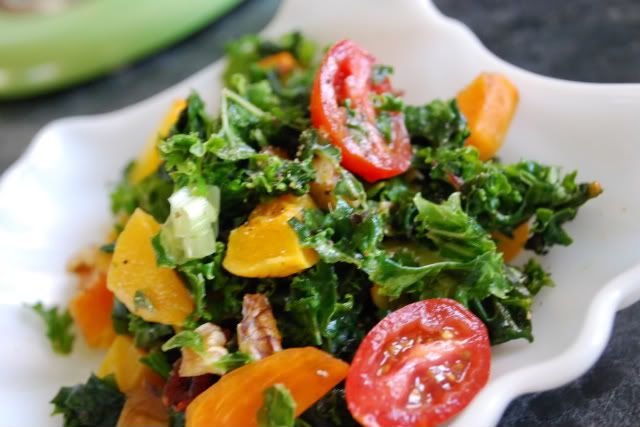 After Thanksgiving dinner I was dying for something light, yummy & healthy. This is one of my new
favs
, it is the perfect winter salad.
ingredients:
- one bunch of kale,
de
-veined
- one bunch of
swiss
chard,
de
-veined
- 1/2 Meyer lemon squeezed (if you only have a regular lemon just use a 1/4 so that it is not too tart)
- 1 tsp of sea salt
**all the other ingredients are optional... add whatever you have that you love in salads... this is what I had:
- cherry tomatoes
- handful of walnuts
- 1 persimmon
- green onions
First
de
-vein all the kale and
swiss
chard, this can be a little tedious but it breaks down so much better without any veins. Chop up all the
de
-veined chard and kale. Add lemon and salt, work together in bowl with hands. You want the leaves to absorb the salt and lemon and really break down. Once you have worked the leaves for a few minutes add all the fixings and viola you have a yummy winter salad. Since the kale and chard are so hearty this will last for a day or so. I made this salad over short grain brown rice for dinner and had a big bowl by itself for lunch the next day. So healthy & so so so yummy.