1. Indulge: In a spa day with girlfriends and laugh till your belly hurts.
2. Wear: Your mom's vintage clothes and jewelry. Raiding my mom's closet was my favorite thing to do growing up.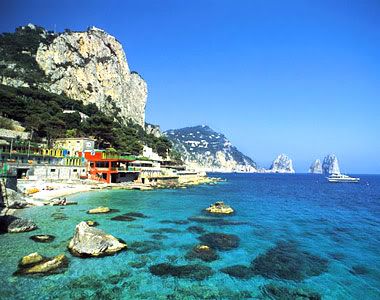 3. See: Capri, Italy. I traveled around Europe for one month with my family, and Capri was absolutely breathtaking.
4. Know: How to grow your own organic vegetable garden.
5. Love: The simple things in life. It amazes me how the smallest things can make my son the happiest little boy on earth.
Grace
is a local blogger that I met through the ladies at the
Rustic Rooster
. She is absolutely adorable with the cutest little guy, Harper. Her blog blew up into a business making beautiful burlap runners, which lead her to a spread in
Cottages and Bungalows Magazine
and a spot on
HGTV
. She is the perfect example of the power of blogging. Grace, your Take 5 is inspiring and fabulous. Thank you so much!
Hope you all have a great weekend. Today marks one week until my
big trip
. I am so excited but have so much to do... yikes!
ox, Alexis